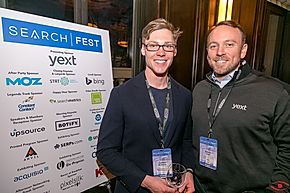 So your event is all ready to go. You made sure to purchase a Step & Repeat Banner. You hired a photographer to take pictures of your guests in front of it. And you made sure the photographer had the capability to post those images to your Facebook Page and to your twitter feed. And the photographer has promised you some great candids for you after the event. You feel all set to go! You got this!
But wait, did you forget someone? What about the sponsors of your event? They have most likely paid a premium to stand out at your event. So how do you make sure they are properly 'showcased'?
The Eye Of Odin Photography has you covered. Remember in our previous post we said we would sit down with you and analyze your digital marketing strategy? There was a reason for this. We are going to ask to work with one individual from your organization during the event. They will help point out who those special sponsors are. You see, we want to make sure we get extra shots that showcase those sponsors and their involvement at the event.
Are extra pictures all you need? NOWAY! After the event, we will create short videos/slide shows for you. And if you want we will even create posts for you on social media and TAG YOUR SPONSORS! That way they get exposure from an additional channel. And people will be talking about them! You want the sponsor to see the extra value they get so they come back and sponsor your event again next year!
So how do you do that? Not only did we make a video slide show spotlighting all the vendors that night, but we also made sure to 'TAG' those vendors on Facebook. If a vendor does not use Facebook then you should make sure to note their website or email address. – You are basically giving your sponsors another value-added reason to be at your event.
The Eye Of Odin Photography will include these short videos with the final delivery of your images. Do you have a special need or a creative idea to help showcase that special vendor? Give us a call; I am sure we can create that content for you!
Click on the image to view the FB Post and see the video slide show.